This story took place in 2009, the young woman recanted her story despite the fact that all accused admitted to the crime. She was considered slow, and was deemed confused and frightened.
LOGAN, West Virginia (FinalCall.com) – The physical scars, though healing, are still visible, but the psychological and emotional scars also remain for the victim of a race torture in the mountains of West Virginia.
When the Honorable Minister Louis Farrakhan read of the reported torture of this young Black woman, he sent a delegation to West Virginia to get a first hand account of Megan Williams' ordeal. Minister Farrakhan sent Student in the Ministry Class Abdul Khadir Muhammad of the Mid-Atlantic Region, along with Attorney Abdul Arif Muhammad, Editor-In-Chief of The Final Call Newspaper, to minister unto the family on behalf of himself and the Nation of Islam.
Police say 20-year-old Megan Williams of Charleston, West Virginia was held captive in a chamber of horrors while six Caucasian perpetrators physically assaulted, raped and tortured her for five days.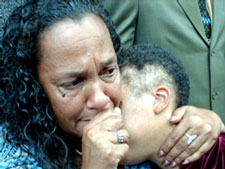 Carmen Williams consoles her daughter, Megan Williams, in front of…
View original post 1,419 more words